Liposculpture -

LIPOSCULPTURE

Since its introduction in the United States in the early 1980s, liposuction has steadily become more popular with time. Today, many refinements have made liposuction one of most common cosmetic procedures. Areas of unsightly fat deposits, from the face to the ankles, can be re-contoured by suctioning the undesired excess fat. Because of the much gentler and more refined nature of the procedure nowadays, it is referred to as liposculpture

In the past, liposuction required hospitalization, general anesthesia, and many times, transfusion of blood due to excessive bleeding. The results were difficult to perfect due to crude instrumentation, and many patients were left with irregularities of the skin. Moreover, the procedure was very expensive to be affordable by most people.





Today, liposuction is an out-patient procedure, and can be performed entirely under local anesthesia (tumescent technique). This allows the procedure to be done safely, eliminating the risks of systemic anesthesia, and more importantly, minimizing the risk of bleeding. Another major advancement is the use of smaller instruments, the size or smaller than a pencil, to refine the esthetic results. Most of these advances were brought into the field of liposuction by U.S. dermatologic surgeons. Patients leave the office after the procedure, and rest in the privacy and comfort of their homes.



Before and after liposuction of hips and outer thighs. (Dany Touma, M.D.)


Scarless Liposuction Breast Reduction Before and After


Liposuction Breasts

---

Breast Liposculpture Beirut Lebanon
Breast liposuction is often needed in both men and women. In women who have large to very large breasts, there is often associated back and neck pain, and irritation or fungal infection in the crease below them, and significant social embarrassment leading to the classic posture of a round back and crossing the arms to cover the breasts. The large size of the breasts is due to fat excess. Surgery is usually performed to remove excess fat and skin and leads to permanent scars in an inverted-T on the lower half of the breast and around the areola, which can be painful and thick in the first few months and require laser and other treatments.

Liposculpture for female breasts is extremely helpful in removing the excess fat through 2 to 3 extremely small incisions and under local tumesent anesthesia. After this painless procedure, women typically lose up to 50% off the size of the breasts. Healing is very quick. The skin stretches back very nicely after the heavy weight of the fat is suctioned out.

Men too often suffer of large breasts, which may be hormonal in origin. This normally causes major psychological distress at a younger age. Liposculpture is the ideal way to resolve this problem, since it is due to excess fat and is only rarely due to gland excess

A note on laser lipo
Much media surrounds laser lipo and people ask about it. The claimed advantage is that laser helps tighten the skin. Up until September 2012, there is not a single study that demonstrates any benefit or advantage over regular tumescent liposculpture as performed by Dr Touma. On the contrary, laser adds cost, larger incisions, the risk of burns and scars and Dr Touma has seen and treated many cases of disfiguring scars from laser lipo, not to mention often severe pain and prolonged healing due to the laser.

Safety should always come first. Dr Touma - a fellow of the American Society of Laser in Medicine and Surgery - advocates the use of simple and safe liposculpture under local anesthesia which is the best, evidence-supported, method for removing fat by far.
---

WHO IS A GOOD CANDIDATE?
The best candidates for liposculpture are healthy men and women with good skin tone and realistic expectations. Age by itself is not very important. Ideally these patients are on a healthy diet and exercise regularly, and have resistant protuberances. Liposuction is a contouring procedure, that leads to reshaping and improvement of these undesired areas. Cellulite is usually only mildly improved. Liposuction is not a weight loss program, and obese patients are rarely good candidates due to the excessive amounts of fat that they carry.
---

WHAT IS THE RISK OF THE PROCEDURE?
When liposuction of limited areas is performed under purely local anesthesia in properly selected individuals, studies published in the journal Dermatologic Surgery have shown that the risk of death or any major complications is virtually nil, and patients routinely go home safely after the procedure. When problems have occurred, it is almost always when too many areas were done, additional cosmetic surgeries were performed, general anesthesia was administered, drug interactions were overlooked, or patients were poorly selected.




Before and after liposuction of love handles. (Dany Touma, M.D.)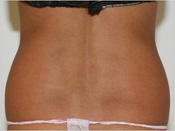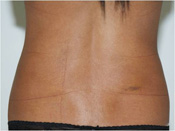 Before and 4 days

A

fter

L

iposuction (Dany Touma, M.D.)

---

WHAT ARE THE ADVANTAGES OF LIPOSUCTION UNDER LOCAL ANESTHESIA?
When undergoing a procedure to enhance ones appearance, the lower the risk associated with the procedure the better it is. First, liposuction is much safer under local anesthesia, as there is a small associated with any kind of general anesthesia. Also, bleeding is minimized and the need for risky blood transfusions is eliminated. Moreover, patients are awake and able to move during the procedure allowing three dimensional contouring. Patients are able to go home after the procedure and rest in the comfort and privacy of their homes. As importantly, the procedure becomes much more affordable due to the elimination of hospital costs.

Before and 1 month after liposculpture of the abdomen and thighs. (Dany Touma, M.D.)


Liposculpture of love handles. (Dany Touma, M.D.)

---

WHAT AREAS CAN BE TREATED?
The most commonly treated areas are the neck and face, abdomen, saddlebags, and hips in women, and breasts and flanks in men. Any area, from the face to the ankles can be treated in properly selected patients.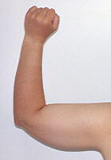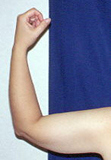 Before and after liposuction of the arms




---

WHAT KIND OF RECOVERY PERIOD SHOULD I EXPECT?
The recovery period varies with the number of areas treated. There is some drainage from the treated sites for one to two days, and bandages are necessary during that time. Compression garments are needed in the first one to two weeks. Most patients are able to resume routine activities including work after two days. Mild exercise is recommended as soon as possible, usually within the first week.

Bruise-free liposculpture. Patient pictured 24 hours after procedure

---

WILL THE FAT REGROW?
It used to be thought that once a certain number of fat cells is reached at puberty, the number does not change, and these cells shrink or enlarge with weight changes. More recent evidence in animals points to the body's ability to regenerate fat cells with excessive eating. After liposuction, one should maintain results by following a healthy diet and exercise regularly.
---

CAN THE FAT BE USED TO FILL ANOTHER AREA OF THE BODY?
Yes, this is done commonly to restore the contours of the face or the hands. The procedure is called lipofilling.

Before and 1 month after liposculpture of the neck without any other intervention. (Dany Touma, M.D.)


---

WHAT HAPPENS IF I GAIN A LOT OF WEIGHT AFTER THE PROCEDURE?
Dr. Touma does not recommend gaining much weight after the procedure. Instead, the best candidates are those that are able to maintain healthy eating habits and exercise regularly. In case of excessive weight gain after the procedure, the fat might show more in the untreated areas, such as the breast. For most patients, weight gain after the procedure is not a serious issue.

Liposculpture reshaping of the waist. (Dany Touma, M.D.)

---

WHAT HAPPENS TO THE EXCESS SKIN?
The skin is a dynamic organ, it is able to stretch back after liposuction of the majority of cases with mild skin excess, such as in the lower abdomen and neck area. Excision of excess skin (tummy tuck or face lift) is rarely indicated, but can be done after the procedure if necessary.
---

WHEN ARE THE RESULTS VISIBLE?
Improvement is usually seen immediately after the procedure or within a few days after the bruising and swelling has subsided, and the improvement continues for two to six months. The results are permanent as long as one maintains a healthy life style after the procedure.

Before and after liposuction of outer and inner thighs. Courtesy of Dany Touma, M.D.

---

WHERE IS THE PROCEDURE PERFORMED?
Because of the safety of liposculpture when done under local anesthesia, Dr. Touma performs

his procedures in the office. This allows maximum convenience at minimum cost, without compromising safety. If deep sedation is desired, Dr. Touma can make arrangements for the operation to be done at a hospital.

Small size of instruments used during liposuction

---

WHAT ARE THE CREDENTIALS OF DR. TOUMA?
Dr. Touma is a board certified dermatologic surgeon. He is a fellow of the American Society for Dermatologic Surgery and the American Academy of Dermatology. He is Adjunct Associate Professor of Dermatology at Boston University School of Medicine. He has trained with the top liposuction surgeons in the world and has in turn trained several dermatologic surgeons around the world. He has been the guest of many TV shows in the U.S. to discuss his technique. His artistic approach and expertise in skin surgery blend the art and science of liposculpting in achieving safe, and esthetically superior results.

Before and 1 month after liposculpture of the neck without any other intervention. (Dany Touma, M.D.)


---